Like Water, Like Air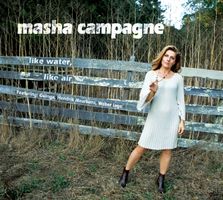 "He was the effortless choice for me as a co-producer," says Masha Campagne about working with longtime friend and collaborator Weber Iago. And on Like Water, Like Air, her second full-length collaboration with Iago, the partnership could hardly feel more organic. Together, they leave an unmistakable stamp on the album's 11 fabulous songs—some standards, some yet to be—which place the chanteuse fronting a roster of bold talents.

Standing out among these is guitarist/composer Guinga, a strong mentor and friend since 2005, whose skillful fingers wield both strings and pen in two songs of his own design. Of Guinga, Campagne says: "His eternally beautiful music that draws on a range of inspirations, from the European classical tradition to great American composers echoes deeply in the recesses of my Slavic soul."

Adding liquid gold to the pot is German harmonica and vibraphone master Hendrik Meurkens, a musician Campagne had long admired from afar. "Harmonica is one of my favorite jazz instruments," Campagne recalls. "Hendrik's fiery, original solos and intense lyricism stayed with me since I first heard him in 2000." Bassist Dan Robbins, drummer Jason Lewis, multi-reed player Harvey Wainapel, guitarist Jeff Buenz, and percussionists Michael Spiro and Guello round out the band.

An infectiously groovy "It Could Happen To You" ushers us into Iago's luscious pianism and hip arranging, setting the tone for a session that is at once tasteful, permeable, and scintillating with desire. His left-hand hooks swing from a turn-on-a-dime rhythm section, providing uplifting contrast with Campagne's ever-tasteful phrasing. Continuing our ride on the standards train, we find smoothness incarnate in Antonio Carlos Jobim's "Outra Vez." Meurkens brings an especially golden sound to this, the album's Bossa Nova heartbeat.

"Invitation" raises the bar. This light and airy confection of fated encounters breathes as it lives: deeply and joyfully. Again, Campagne enchants with her grace, turning the tried and true into a veritable welcome mat for the listener. "Se E Tarde Me Perdoa" (Carlos Lyra) finds the cast superbly arranged, with lively syncopations from percussionist Michael Spiro matching Campagne's effortless sense of timing beat for beat alongside solid altoism from Harvey Wainapel.

Guinga proves himself a versatile artist of great tenderness and scope on two of his tunes. In lighthearted samba "No Fundo Do Rio", Campagne's buoyant lyric portrayals at once transport the listener to Rio de Janeiro, bringing the emotional level up a few notches. In a duet "Exasperada," intimate voicings of Guinga's guitar and Campagne's breathy stylings evoke an emotional watercolor portrait of love in a transient world.

Iago also gives us a taste of his compositional talents with "I Can See You Now," thereby ending the album on a reflective note. Gentle yet affirming, it features Campagne's deep, emotionally expansive vocals backed only by the composer at the keys.

But it is Campagne's reverent, bold originals that are sure to stand out. Whether in the foot-tapping goodness of "Broke But Rich," a bittersweet anthem for the fledgling in all of us, or the downtempo considerations of "Mystery Unwrapped," that very self-confidence shines through like the sun through the clouds. Meurkens notably swaps comb for mallets in these two tunes, adding a fluid touch with his vibes that sits comfortably below a breathy vocal spread.

Evoking a giddy rush of a new found love "My Heart Was Lost And Found For You" paints yet another tender image, cinematic and sunlit. In it one can hear the smile in her voice, curled like a new moon against the urban sky. Last but far from least is the title cut, an intensely personal and optimistic journey through the topographies of desire. Its sentiments float somewhere between wonder and conviction, dipping its quill in the ink of joy and signing a love letter with a flourish and a kiss.

Of its many strengths, Like Water, Like Air's greatest is its cohesiveness. Though styles change from song to song, their unity only grows stronger as they build in diversity. Each reaches out to us like a warm embrace, unrolling long stretches of beach, skyline, and experience. We could ask for no better guide than Campagne through these spaces, for on her lips the words and melodies find a life of their own.

The engineering, so well suited to the intimacy of the music at hand, is all the more impressive for having been recorded and mixed in a matter of weeks. It lifts as needed, winged and free but never losing sight of where it came from. Living large in spirit and rich at heart, this music arcs like a glinting coin into the outstretched cups of our souls.
Amazon.com
For sale on CD Baby
Caminhos Cruzados = Crossroads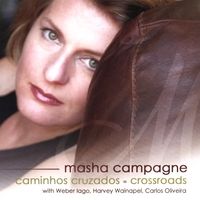 The genre-bending debut 'Caminhos Cruzados' by a thrilling new vocalist Masha Campagne has all the wonder of a magical discovery and excitement of artistic accomplishment. From classics of Cole Porter and Jobim to modern standards of Guinga and pop ballads of Djavan, Campagne dazzles with her contagious, sophisticated style, great imagination and truly unique artistry.

On this project she widely collaborates with Weber Iago, a brilliant Rio de Janeiro-raised pianist/arranger.The record also features impressive cast of musicians such as Harvey Wainapel, David Belove, Carlos Oliveira, Paul van Wageningen and Michael Spiro.

The album transcends traditional musical boundaries where Brazilian and American Jazz references freely intermingle with the sensibility of Classical music in an evocative and sonant approach. With a surprising array of grooves created by Iago's beautifully crafted, texturally and melodically rich arrangements, the album perfectly captures the seductive power of Campagne's sumptuous voice.

Iago conveys his genius for writing for strings on two pieces by Guinga, weaving a supple fabric of colors for Campagne to inlay vocal stylings with fluidity and emotion. The lighthearted version of "Doralice," displays Campagne's buoyant and sensitive interpretative qualities on this classic cut previously recorded by Stan Getz and João Gilberto on their landmark bossa nova session.

Swinging effortlessly Campagne delivers the classic Jazz standard "It Might As Well Be Spring," with a hip demeanor and sparkling excitement. This heated number truly becomes an inspiration cut also featuring an ambient tenor solo by the reed master Harvey Wainapel.

Campagne shines the brightest on a series of medleys, the first of which weaves together three masterpieces by Jobim. The second medley opens the album, combining a soaring, Jazz-steeped melody by Djavan with a luxuriant Iago composition featuring the percussion tandem of Paul van Wageningen and Michael Spiro. The album closes with an intimate duet between Campagne and Iago on another captivating Djavan melody.

Collaboration between two brilliantly inspired artists adds up to an offering with depth, poise, complexities and beauty. In Campagne's words "Caminhos Cruzados is my sacramental love confession to the Brazilian music." In Iago's words "Masha Campagne is from Russia, but definitely Brazilian at heart…what a delight it has been to get to know her and her musicianship. I'm already thinking about the next one!"
Amie Street
On Amie Street, you can discover, buy and download music of every genre from a great selection of established and underground artists. It's the first place where people collectively determine the price of every song; on Amie Street, all songs start free and rise in price up to 98 cents, based on their popularity.
Buy now at CD Baby